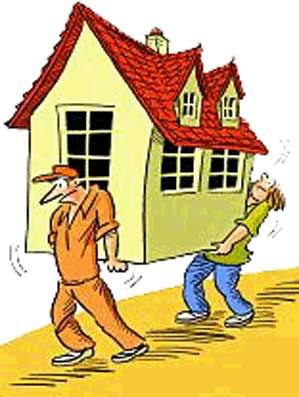 I have a couple of friends who I shall call Phoebe and Katrina. These are real people with fictitious names. A few years ago these sisters carried for their father who was on dialysis. Phoebe slept in her father's room at the assisted living place to keep him from falling and help him with things. Katrina was a lawyer but she was unable to find a position in a law firm. She had her own practice and Phoebe worked as her paralegal, but while their father was sick neither of them could work much. After the father died they two girls received 25,000 in inheritance. They had already been through a rough time in an apartment, lost the house they grew up in, so they wanted to find a new home. They put their inheritance money into a house. It was about that time (around 20006) that everyone began to notice it was getting really hard to find a job. This is was right at the point where gas prices began to really clime.
Over the course of the next few years the two girls failed to find jobs. Phoebe tried very hard, Katrina not so much she also was discovered to have breast cancer. The last few years for her have revolved around fighting best cancer and trying to survive. Without work they were unable to make any house payments, or at least many. They worked sporadically, in elections, tried to get law clients and did some legal work for friends. Phoebe scoured the countryside looking for almost anything and was unable to find a job even working in a nursery. The $25,000 was gone a long time ago. They donged the bullet on foreclosure many many times. The original mortgage company went of out business. The company that bought up the debt lacked the legal paper work and couldn't even prove they owned the house. Yet the court continued to regard the mortgagor company as the injured party and kept giving them more and more chances to evict the girls.
The mortgage company pretended to give the girls a chance to buy the house. Pheobe finally got a job working in a school cafeteria but makes very little money. She works very hard every day and makes almost nothing. The mortgage company set impossible goals standards for them to meet then deemed them unworthy of a mortgage. Katrina was dying fast enough to suit them I guess. The girls finally lost the house. They are having to look of a new place. It's very hard to find one becasue they have "economic leper" by thier names ("foreclosure" on their credit reports). The thing is the economic leper rating was put in the reports before the court was settled. So before they were foreclosed upon their credit rating said "foreclosure." Mortgage company used credit rating as one of the criteria why which they judged their suitably for a mortgage, but the couldn't get it because they had a poor credit rating because the very people they were trying to get the good credit for already told credit report people they were foreclosed upon. That has to be illogical. They had a fine lawyer. I know their lawyer so I know he addressed that. The problem: the laws are there to protect the business in their attempt to fleece the homeowner. This is obvously a sham. That's almost like putting the prosecution on the jury.
This outcome is no surprise to me. I went through the process just as they were starting to buy the house. I lost my house we moved out in August of 2006, just as they were beginning to put the money down on their house. My only surprise is that they lasted so long. I have watched every step, holding my tongue and praying because I knew it wouldn't work. I knew when they began trying all sorts of "creative options" like selling the house and renting it back from the buyer, that wont work. We tried all that. I fought for our house for two years. the truth of it is once you start down the foreclosure path it's gone. All the people who have their little business who will supposedly save you are just going to rip you off more. My brother and I never missed a house payment but they stole our house anyway. They paid the taxes the day of the closing then used that as an excuse to raise the payments three times what they were. It was over at that point but we did not know it.
Back in the early part of the decade when I used to see 'get rich quick' scam ads featuring real estate as the golden goose I knew at that time we were in for a crisis some day. I would see ads and things talking about how easy breezy it is to "buy houses and flip them" one need ever be poor again. I thought to myself "doesn't anyone ever buy houses to live in anymore?" I said then "it's going to go bust." Little did I know how right I was. The greed of America, we exist to make money. We live to get more stuff. It never has to stop, the market will always go up and up. Guess what, the bubble did burst. Who takes the fall? The poor average American, Phoebe and Katrina, people who just want to live in a nice little house with their memories of helping their father. The bastards who grow richer every day by sucking the blood of such ordinary people don't have to pay because they are the ones the laws are designed to protect, not the struggling homeowner but the brigandage which exists to feed off the homes of Americans.
The predictable results:The Foreclosure crisis is now spread over 2 million homes.
PBS News Hour Extra. Oct 22, 2010
Since the economic crisis began in December 2007, millions of Americans have lost their homes to foreclosure, sending families scrambling to find a place to live -- sometimes moving into relatives' houses, settling in homeless shelters or on the streets.
Foreclosure, which is when a bank takes away a house because the owner cannot pay back a loan, is at the heart of the economic crisis. During the 1990s and up until 2007, banks and lenders encouraged people to buy expensive homes with loans far beyond their earnings. In some cases, lenders tricked homebuyers with payment schedules designed to start out low, but balloon after a few years.

More than 2.5 million Americans are currently at risk of losing their homes. In recent weeks there have been halts to foreclosures due to questions about paperwork and whether lenders and banks followed the rules when processing foreclosure paperwork. In Florida, activists such as Lisa Epstein have been investigating banks' fraudulent mortgage practices, including using "robo-signers" to sign legal documents necessary to evict vulnerable homeowners.
Confirmation on the number from real estate sources
Based on RealtyTrac data, since December 2007 (the official start of the recession) and through June 2010 there have been a total of 2.36 million U.S. properties repossessed by lenders through foreclosure (REO). In addition there have been 3.48 million default notices and 3.46 million scheduled foreclosure auctions.


Thanks to action by States Attorneys general there was a temporary moratorium on the illegal house stealing. but that's back on now. Their house stealing only slacked off for a few weeks. That's just a temporary lull. The temporary stop is due to action by attorneys general. It has been found that mortgage companies were illegally foreclosing, just rushing paperwork through without any actual regard to real documentation of the house. This is nothing more than thieving. They are literally house thieves.
PBS

Bank of America, the nation's largest bank, had stopped foreclosures as it investigated its methods, but plans to restart its foreclosure offices as early as October 25.
Illegal Foreclosures? The State investigates Three Top South Florida Law Firms....
all Business a D&B company
Three of Florida's largest foreclosure law firms are under investigation by the state attorney general following allegations they illegally rushed thousands of cases through the court system.

The firms, dubbed "foreclosure mills" because of the large volume they handle, are the Law Offices of Marshall C. Watson in Fort Lauderdale; Shapiro & Fishman, which has offices in Boca Raton and Tampa; and the Plantation-based firm of David J. Stern. All three handle foreclosures in Palm Beach County.

Tuesday's announcement of the investigation by the Economic Crimes Division of the attorney general's office says "thousands of final judgments of foreclosure against Florida homeowners may have been the result of the allegedly improper actions of the law firms."

Several reports have surfaced in recent months of judges throwing out foreclosure cases in which key documents, such as assignments of mortgages and notes, appear to be doctored, backdated or filed by groups with no standing to foreclose on a property.

Also, attorneys defending homeowners against foreclosure have complained the amount owed a lender on a defaulted loan sometimes cannot be substantiated.

The convoluted boom-time financial practice of repeatedly buying, selling and bundling mortgages exacerbates the situation, making it difficult sometimes to determine who is truly owed the balance of a home loan.

"On numerous occasions, allegedly fabricated documents have been presented to the courts in foreclosure actions to obtain final judgments against homeowners," the statement from Attorney General Bill McCollum says.
Foreclosure mills cranking out the theft of houses. Not just in Florida. It's all 50 states:
Action Alert
Carl C. Asbury Save My Home Lawgroup
Action Alert – Foreclosure Fraud – Tell your Attorney General "Don't Sit Down with the Banks! Stand up Against Fraud!"
A 50-state task force investigating U.S. foreclosure practices may meet with lenders as early as this week, less than a month after JPMorgan Chase & Co. and Bank of America Corp. suspended some home seizures.
"We've had several conference calls with major lenders," Colorado Attorney General John Suthers said in an interview, declining to specify which ones. "The banks want to sit down with the attorneys general. These meetings are being set up," said Suthers, whose office is a member of the executive committee of the task force.
All 50 states on Oct. 13 announced a coordinated inquiry into whether banks and loan servicers used false documents and signatures to justify hundreds of thousands of foreclosures. The probe came after JPMorgan and Ally Financial Inc.'s GMAC mortgage unit said they would stop repossessions in 23 states where courts supervise home seizures and Bank of America froze foreclosures nationwide.
Not only have the mortgage companies been found to be actual thieves, as I thought way back when I was dealing with them, but even the people claim to have you, the knights in shining armor who are going to come to your rescue are merely vultures circling waiting end. The state of Indiana has taken action
Indiana Real estate Rama
Indiana Attorney General Greg Zoeller urges Hoosiers to avoid foreclosure rescue scams
VINCENNES, IN - October 21, 2010 - (RealEstateRama) — Many homeowners facing foreclosure who are frustrated with their loan servicers turn to for-profit foreclosure consultants whose advertisements often promise any home can be saved from foreclosure and their services are 100% guaranteed. Indiana Attorney General Greg Zoeller today announced the filing of 10 lawsuits against companies making such claims calling them false and illegal, including one complaint which was filed today in Knox County against Integrated Financial Solutions, headquartered in New Jersey.
These so-called 'foreclosure consultants' are taking advantage of Hoosiers who are facing desperate financial hardships and scamming them out of thousands of dollars. They are operating illegally and this will not be tolerated in Indiana," Zoeller said. "Working to protect Hoosier consumers includes bringing actions against those who violate our state laws and also warning people to protect themselves, their family and their neighbors - don't let a loved one fall victim to these scams, no matter how convinced they may be of their legitimacy."

The lawsuits were filed in nine different Indiana counties by Zoeller and his team of deputy attorneys general serving in the Homeowner Protection Unit. The coordinated filing was done in an effort to raise awareness of the pitfalls of hiring for-profit foreclosure rescue companies.

So even the 'good guys' are the bad guys. The only good guys in it are the victims who lose their houses. No one is there to help them and even the laws are against them. The mortgage company, which is just a better organized gang of thieves, those are the one's the laws protect. The media is complicit too. look at the huge discrepancy when they talk about causes. Everyone is afraid to call it like it is. PBS attributes the crisis to lowering prices.
PBS source above
Part of the financial crisis, however, is that the value of homes has dropped sharply. Therefore, many homeowners who pay their mortgage on time still owe more than their home is worth. For example, if you bought a house for $300,000 in 2007, your house might be worth $150,000 today. Owing more than the house is worth is called being "under water."


why are home prices low? The falling prices didn't start until 2007 when the crisis was well underway. There were forsale signs all over the place before I even lost my house in 2006. Why were the prices falling? Because suddenly all the get rich quickers knew the bubble had burst. The golden goose was dead and they wanted out of the housing market. The only people still in the housing market were people who actually wanted to live in the houses. By that time the prices were falling. Mortgage companies blame scape goat lends of subprogram loans, and of cousre the evil victims willing to take the loans.
foreclosure data online since 2001
mortgage company propaganda
HomeOwnership.org
non profit organization
The MHA plan essentially comprises two mortgage relief programs to help troubled homeowners - a loan modification program and a refinance program.

Federal Mortgage Relief - Loan Modifications

This page contains a breif description of the loan modification program. For a complete description of the qualifications and how to apply go to the Loan Modification Programs: How to Qualify and Apply page.

The purpose of a mortgage modification is to get your monthly payment to a more affordable level. An "affordable" mortgage payment is typically defined as 31% of the borrower's monthly gross income. This is achieved by modifying one or more components of your mortgage:

Lowering the interest rate
Extendeding the life of the loan
Lowering the loan principle

Eligibility

There are a lot of factors that contribute to a borrower qualifying for the loan modification. Use the online qualifier provided on this website to determine how likely you are to qualify for a loan modification:

How to apply

If youre ready to begin negotiating for a loan modification, get some free advice before contacting your lender. Consider talking to a HUD-approved, nonprofit housing consultant and find out how likely you are to qualify for a loan modification based on your individual mortgage and financial situation.

What if you don't qualify or have been denied?

If you don't qualify for a loan mod or if you've been denied one in the past, there are two private programs available to you.
This is not nearly enough. It essentially doesn't help anyone who is really poor, on the brind of losing the house, or with a long term problem. It's much more than Bush did. The only thing Bush did was to call the victims "lazy." He did nothing. What did the American voter do in the last elections (this month)? They put the people who caused the problem back in power. How many republicans in Congress do you supposes sell real estate, have wives or husbands who do, or bet friends who do? Republicans and real estate go together like rain and tornadoes, or poison and death. How do you supposes the laws got slanted to help the mortgage company and not the homeowner? While we are on the subject consider the timing of last months action by attorney's general? Right before the mid elections. Worked for the Texas Attorney General. The grils, Phoebe and Kat got two weeks off on worry and Kat voted all republican raving about how Greg Abbott has helped her so. he helped her so much she's packing to leave now!